Early Life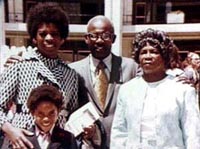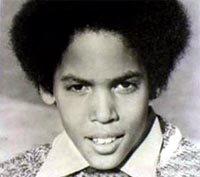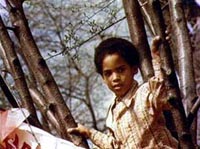 Lenny Kravitz was born in New York
the son of Jewish Hollywood producer Sy Kravitz and Bahamian actress Roxie Roker (of The Jeffersons), Lenny grew up in wealth.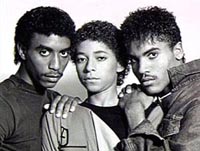 Rome Blue
His parents moved to California Having taught himself bass, piano, guitar, and drums at an early age and developed his singing voice in the California Boys Choir and the Metropolitan Opera, he attended Beverly Hills High School and performed under the artist name, Romeo Blue (see picture).
At that stage, he was heavily influenced by Prince.
His parents were friends with jazz greats Duke Ellington, Sarah Vaughan, Count Basie, Ella Fizgerald, Bobby Short and Miles Davis so he grew up in a musical household although he would pursue a career in rock rather than jazz.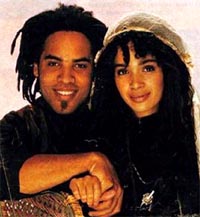 Lenny and Lisa
In the late 1980's, Kravitz returned to New York to pursue a musical career. He ended sharing a house with Lisa Bonet who played Denise Huxtable on The Cosby Show. The two would fall in love and would marry.
In New York, Kravitz would broaden his influences beyond Prince to classic rock and soul artists such as Hendrix, the
Beatles
, Led Zeppelin, Stevie Wonder, Curtis Mayfield and Bob Marley. He signed a contract with Virgin Records.
Early Career

Let Love Rule - 1989

Let Love Rule
(1989)
His 1989 debut album Let Love Rule
was a moderate success, reaching #61 on the Billboard album charts.

Mama Said - 1991

Mama Said
(1991)
His next album, Mama Said in 1991, reached the top 40 of the Billboard album charts and songs on the album were influenced by his divorce from Bonet. It contained the hit single:

Are You Gonna Go My Way - 1993

Are You Gonna Go My Way
(1993)
In 1993, Are You Gonna Go My Way was released reaching #12 on the Billboard 200 and earned a Brit Award for best international male artist in 1994. The title track won a MTV Video Music Award for Best Male Video for the video produced by Mark Romanek. The single would reach #1 on the Australian and Billboard mainstream rock charts and #2 on the modern rock charts. Several singles from the album would follow including:

Circus - 1995

Circus
(1995)
He released the Circus album in 1995, which reached number 10 on the Billboard chart on the back of his past achievement. However, it only had two singles:
Later Career

Five - 1998

[ 5 ]
(1998)
With 5 (1998), Kravitz embraced digital technology
such as synthesizers and tape loops for the first time. 5 introduced Kravitz's music to an even wider audience, particularly in Europe, because "Fly Away" featured prominently in both car manufacturer and airline commercials. 5 would reach #28 on the Billboard 200 with :
American Woman
" won him a another Grammy for Best Male Rock Vocal Performance in the Grammy Awards of 2000 and helped The Guess Who find a new audience. The song originally came from the soundtrack of and was added to the 5 album as a bonus track in 1999. The song would reach #49 on the Billboard 100, #3 on the Billboard modern rock chart and #7 on the Billboard mainstream rock chart.

Greatest Hits - 2000

Greatest Hits
(2000)
Lenny Kravitz would release a 15 track Greatest Hits compilation. It proved to be his most successful album, reaching #2 on the Billboard 200 and Canadian album charts and achieve triple platinum status.

Lenny - 2001

Lenny
(2001)
Kravitz released his sixth album Lenny in October 2001. It reached #12 on the Billboard 200 and #9 on the Canadian charts. The first single from the album :
In early 2003, Kravitz released the track "We Want Peace" as a download-only track as a protest against the 2003 invasion of Iraq. The track reached #1 on the world internet download charts and MP3.com download chart. Kravitz will also be appearing on Unity, the official album of the 2004 Athens Olympics.

Baptism - 2004

Baptism
(2004)
Kravitz's seventh album Baptism was released on March 18 2004. On his website, Kravitz says that he chose the title because "I've made my first record all over again. That's how it feels, as pure as the beginning." Baptism would debut at number 14 on the US album charts, in the top 50 of the Australian album charts and in the top 75 of the UK album charts. The first single :
Thanks to
www.brainyencyclopedia.com