Lenny Kravitz's European Tour Dates


02/06/2004 Copenhagen
03/06/2004 Hamburg
05/06/2004 Berlin
06/06/2004 Köln / Cologne
08/06/2004 Paris
11/06/2004 Lisbon
13/06/2004 Madrid
14/06/2004 Barcelona
17/06/2004 Amsterdam
19/06/2004 Munich
20/06/2004 Italy (Heineken Festival)
22/06/2004 Ljubljana
23/06/2004 Zagreb
26/06/2004 Varsow
28/06/2004 Vienna
29/06/2004 Prague
01/07/2004 Frankfurt
03/07/2004 Werchter Festival
01/07/2004 Uster Stadium (Switzerland)
07/07/2004 London



Lenny Kravitz's US Tour Dates


September
9/11 Atlantic City, NJ Borgata
9/12 Wantagh, NY Jones Beach
9/15 Toronto, ON Molson Amphitheatre
9/18 Washington DC Nissan Pavilion
9/21 Holmdel, NJ PNC Arts Center
9/22 Boston, MA Tweeter Center
9/24 Detroit, MI DTE
9/25 Chicago, IL Tweeter Center
9/28 St Louis, MO UMB Bank Pavilion
9/29 Columbus, OH Shottenstein

October
10/1 Indianapolis, IN Verizon Wireless
10/2 Atlanta, GA Turner Field
10/4 West Palm, FL Sound Advice
10/7 Houston, TX Woodlands
10/8 San Antonio, TX Verizon Wireless
10/11 San Diego, CA Coors Arena
10/12 San Francisco, CA Shoreline Amphitheater
10/15 Irvine, CA Verizon Wireless
10/16 Las Vegas Mandalay Bay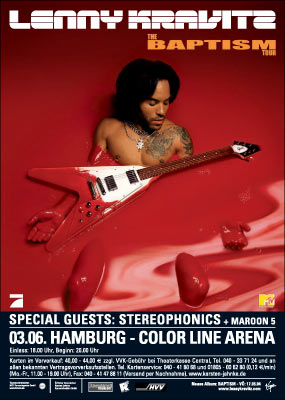 Lenny Kravitz 2000 Tour Dates

Lenny Kravitz 1999 Tour Dates

Lenny Kravitz 1998 Tour Dates

Lenny Kravitz 1996 Tour Dates

Lenny Kravitz 1995 Tour Dates

Lenny Kravitz 1994 Tour Dates

Lenny Kravitz 1993 Tour Dates

Lenny Kravitz 1992 Tour Dates

Lenny Kravitz 1991 Tour Dates

Lenny Kravitz 1990 Tour Dates

Lenny Kravitz 1989 Tour Dates


* If you know concert dates which are not in our database, please post it on the forum. Thanks!

August 03, 2004

Following his recent European stadium tour, Lenny Kravitz will be returning to the United States for the US leg of his Baptism world tour.

Scheduled to kick off in Atlantic City, New Jersey, the tour will hit 19 markets nationwide and will feature Kravitz performing hits spanning the length of his fifteen-year career. Robert Randolph and the Family Band will open the show.